Namibian Wild Elephant Sale Causes Controversy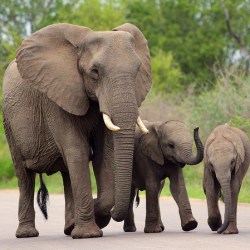 Namibia has drawn attention for recent wild elephant sales, angering some conservationists who think that an international wildlife treaty has been broken.
Elephants exported
22 wild African elephants were reported to have been exported in the past year. Namibia has been keen to point out that no violation of any treaty has occurred.
Namibia has over 24,000 wild elephants. Rounding up elephants is, according to the Namibian authorities, an essential way to manage their numbers. Capturing and exporting a small number of elephants is in their eyes a positive step towards reducing overpopulation of elephants and fatal encounters with humans, as well as providing funds for conservation.
According to the Namibian government, in the past year elephants have killed three people in Namibia, and have damaged crops on multiple occasions.
Concerns raised over motive
Several countries have voiced concerns that Namibia has broken the Convention on International Trade in Endangered Species of Wild Fauna and Flora (CITES). The treaty states that African elephants from countries including Namibia cannot be exported to a country that hasn't previously had or doesn't have wild elephants – unless there is a proven conservation benefit.
African savanna elephants are listed as endangered, and forest elephants are critically endangered. Less than 40,000 elephants remain in the wild across Africa. At the end of 2020 Namibia auctioned off 57 elephants. There were three successful bidders, one inside the country, and two offshore.
Destination unknown
The details of the offshore bidders are not according to the Namibian government allowed to be released until the process of moving the elephants is completed. A further 20 elephants must be exported before the deal is fulfilled.
Despite Namibia government not sharing the overseas buyers information, it has come to light that one of them is the Al Ain Zoo in the United Arab Emirates. However, no information is known on how many elephants are heading to the UAE or if any have arrived yet.
Investigation underway
The World Association of Zoos and Aquariums (WAZA) is carrying out its own investigations into the allegations. They have stated that taking elephants from the wild without a need for conservation breeding programs, education or basic biological studies is a breach of its code of ethics and animal welfare. If they find that the AI Ain Zoo is guilty of an offence they could expel the zoo from WAZA.
CITES have not taken any immediate action against Namibia but have taken note of all concerns. The Namibian representative within CITES stressed that they have been very transparent about the sales and have nothing to hide. They were satisfied that all CITES treaties and requirements have been met.
If you want to find out about how you can help with African elephant conservation then please visit our Adopt an Elephant page.