Ivory Trade Ban In UK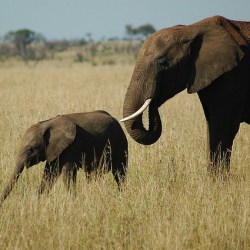 Wildlife campaigners and conservationists celebrated earlier this month when the long awaited ban on the ivory trade finally came in to force in the UK.
Illegal to trade ivory in UK
It is now illegal to trade in ivory items in the UK except in very limited circumstances. Breaking the law is punishable with the threat of prosecution and a fine of up to £250,000 or five years in prison.
The International Fund for Animal Welfare along with other conservation groups campaigned for many years to see an ivory trade ban come in to force and protect elephant populations from further killings for their tusks. The Ivory Act itself was passed in 2018 but there was a three year delay before the Act came into force.
20,000 elephants poached for ivory
It is thought that up to 20,000 elephants a year are poached for the ivory trade. This act is much needed and needs to be effectively enforced so that the ramifications of trading in ivory are feared.
Leading the way
It is hoped that the UK will lead the way for other countries to close their own domestic ivory markets.
Before the Ivory Act, conservationists had encouraged members of the public to surrender their unwanted ivory items to be disposed of via a government agency. This was in an effort to stop items being sold. Thousands of items were handed over.
It is hoped that the UK government will provide a continuation of this scheme now that the act has been passed so that items can still be securely handed over.
Global ban required
The only way to truly prevent the illegal killing of elephants for their tusks is to support the closure of all avenues that allow ivory to be sold. Regardless of how old the ivory is it should not be allowed to come to market as legal sales provide a cover for poachers to slaughter more elephants.
For further information on supporting elephant conservation please visit our Adopt an Elephant page.