WWF And Indian Government To Create Rhino DNA Database 
Posted on August 21st 2019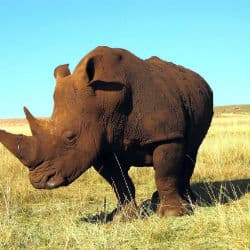 The Indian Environment Ministry has established a project that will see the creation of DNA profiles for all of India's rhinos. The project has a completion deadline of 2021 which would make the Indian rhino the first wild animal species in the country to have every member undertake DNA sequencing. The project is being supported by WWF India and the government funded Wildlife Institute of India.
Useful for gathering evidence
Both organisations say the project will be useful in eliminating poaching as well as gathering evidence of rhino related wildlife crimes. In India there are approximately 2,600 rhinos with more than 90 per cent of the population residing in Kaziranga National Park in the India state of Assam. Amit Sharma a spokesperson for WWF India says the project is set to kick off within a year.
Database will be hosted in Dehradun
Mr Sharma says that so far approximately 60 tissue samples have been collected some of which come from Rhinos that do not live in Kaziranga. He adds that DNA samples have also been extracted from dung and one the project is complete there will be a database hosted at Wildlife Institute of India's headquarters in Dehradun.
Trying to move rhinos out of the park
Once all rhinos have been profiled and the database is complete it will become a much easier task identifying rhinos that have either been killed or poached. The project is part of the Indian Government's much larger rhino conservation programme that begun during the 1980's. Since the programme first began, the government has been trying to move a large number of the Kaziranga Park rhino population out of the park.
Response to poaching and habitat challenges
They have been doing this in the interest of conservation as well as in response to poaching threats and challenges to habitat. Outside of the park in the Indian state of West Bengal there are about 200 rhinos whilst in the state of Uttar Pradesh an estimated 40 are thought to roam the state. The project is also trying to relocate rhinos to other locations within Assam such as the Manas National Park and Pobitara Wildlife Sanctuary.
Rhino population decimated
There are three species of rhino. In India only one of those species is found, which is its namesake the Indian rhino. Rhinos used to be quite abundant in numbers and distributed throughout the country. Unfortunately poaching had dramatically reduced their numbers and by the end of the 20th century there were just 200 left in the world.