Tigers Need More Protection Warns Conservation Group
Posted on November 28th 2019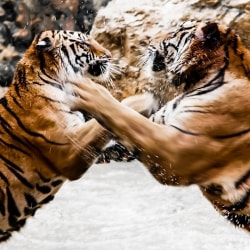 Since the start of the new millennium, over 2,300 tigers have been killed and illegally trafficked according to a new report, that warns the big cats need more protection. Every year, an average of more than 120 tigers that are illegally trafficked are seized. That amounts to more than a couple a week since the year 2,000 conservation group TRAFFIC said in its report adding there is little respite for the species. The author of the report says the numbers are deeply concerning.
The fight looks like it is being lost
The author says the fight appears as if it is being lost. At the turn of the previous century, there were over 100,000 tigers in the wild, but by 2010, the number had fallen to 3,200 and population numbers have been slowly creeping upwards to about 3,900 wild tigers today. The report's author says the trafficking evidence of which can be seen in the continuously high number of whole skins, whole animals either dead or alive shows just how much demand there is for tiger parts.
Prevent further losses
The author in a statement says the time for talking has passed, with words needing to be turned into action in order to prevent further losses. The organisation campaigns to protect endangered species and provide assistance to governments in order to catch those who trade in parts. According to its research, between 2000 and 2018, 2,359 tigers were seized across 32 countries and territories. The most commonly seized tiger part are skins with an average of 58 seized every year.
India
India which has the highest number of wild tigers also continues to be the state with the largest number of seizures, which is consistent with findings from previous years. India was where 40 per cent of the total incidents and 26.5 per cent of the tigers were seized. Outside of the natural range of tigers, 56 seizures were recorded, mainly in Taiwan, China and Mexico.
Role of breeding centres
The study also highlights the increasing importance of breeding centres that fuel the illegal trade in tigers, particularly in Southeast Asia. The tiger farming industry claims that trade in captive animals relieves pressure on tigers in the wild. However, conservation groups say this is dangerous because it removes stigma surrounding buying tigers or their body parts and could end up creating new markets for them. A third of tiger seizures from Vietnam over the past two decades and over half of seizures in Thailand were identified as tigers that came from captive breeding.
"Seizures of tigers from captive facilities continue and serve as a stark reminder that such facilities seriously undermine conservation efforts to safeguard this species and provide opportunities for laundering and other illegal activities," said senior TRAFFIC crime analyst Ramacandra Wong in the statement.