Cecil The Lion Suffered For Many Hours Before Dying New Book Reveals
Posted on April 28th 2018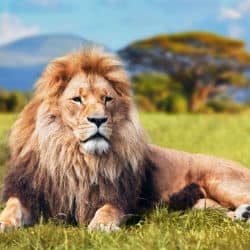 Many people will remember when an American dentist travelled to Zimbabwe on a hunting expedition and shot and killed a beloved lion called Cecil back in 2015. The killing caused global outrage and the Minnesota based dentist named Walter Palmer who fancied himself as a big game hunter fled into hiding as a result. Andrew Loveridge A researcher who was studying Cecil now claims in a new book titled   "Lion Hearted: The Life and Death of Cecil and the Future of Africa's Iconic Cats," that Cecil suffered for many hours after initially being shot with a crossbow.
10 to 12 hours before dying
Excerpts of the book were published by National Geographic and according to Mr Loveridge, the data that was obtained from Cecil's GPS collar suggests he was killed approximately 10 to 12 hours after initially being wounded. After the incident gained international attention Mr Palmer released a statement saying he was clueless that the lion he had been hunting was a known animal and a favourite amongst locals. Instead Mr Palmer blamed his local professional guides on whom he says he relied for their expertise to ensure his hunt was legal.
Hunter has a history of making false statements
Mr Palmer however is unreliable however, given the fact that he plead guilty over a decade ago to making false statements to the US Fish and Wildlife Service regarding the shooting of a black bear he killed in Wisconsin. Whilst Mr Palmer was in possession of a permit to hunt, the animal was killed outside the authorised area. Mr Palmer at the time attempted to pass of the killing as having occurred elsewhere court documents reveal.
Cecil was lured out of the national park
Conservationists claim that the men who participated in the killing of Cecil tied an animal carcass to their car in order to lure the lion out of the national park where he was protected. In the book authored by Mr Loveridge, it is claimed that the professional hunter from Zimbabwe who was guiding Mr Palmer panicked when he first saw the collar attached to Cecil. He then removed it and hung it on a tree instead of returning the collar to officials. The research team only realised that something was amiss about six days later when it occurred to them that no data had been transmitted from the collar.