Animal Tourism In Asia Results In Elephants Being Kept In Cruel Conditions
Posted on April 21st 2018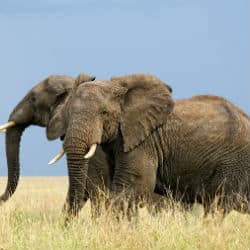 Animal welfare group World Animal Protection says that Asia's tourism industry makes use of hundreds of elephants that are kept in extremely cruel conditions. Scrutiny of animal tourism in Asia has been stepped up over the last few years particularly in light of the scandal in Thailand at a tiger attraction where wildlife authorities discovered dozens of dead tiger cubs.
Poor living conditions for domesticated elephants
World Animal Protection says that 80 per cent of the 3,000 elephants at tourist venues are located in countries such as India, Cambodia, Nepal, Laos, Thailand and Sri Lanka suffer and from extremely poor living conditions and diets. The poor animals are also over worked. In Thailand alone, it is estimated that there are 4,000 domesticated elephants many of which work in the tourism industry. There are a further 2,500 wild elephants in the country as well.
Changing the attitudes of tourists
Jan Schmidt-Burbach, a wildlife expert at World Animal Protection says the organisation wants to change the demand by tourists to experience an elephant ride or take in an elephant show. Instead the organisation wants tourists to gravitate towards more elephant friendly activities such as simply observing the animals. In an interview with Reuters, Mr Schmidt-Burbach says if you have the ability to ride an elephant or take a selfie with one, it is highly likely that is cruel to the animal.
Tourist attractions reject the accusation of cruelty
Thailand is experiencing record numbers of foreign tourists, and since 2010 there has been an increase of 30 per cent in the number of elephant tourism venues. Ittipan Khaolamai, manager of the Royal Elephant Kraal in Ayutthaya province, which servers as home to about 90 elephants defends the use of elephants as tourist attractions. He says that caretakers treat their animals well adding that in general most mahouts look after the animals because their livelihoods depend on their welfare.